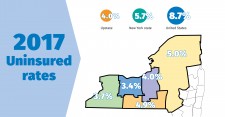 ROCHESTER, N.Y., September 13, 2018 (Newswire.com) - Upstate New York's health insurance uninsured rate continued to hold at the historic level of 4 percent, while the state's uninsured rate hit its lowest level in history, according to an Excellus BlueCross BlueShield analysis of the U.S. Census Bureau's 2017 American Community Survey issued today.
The 4 percent rate for upstate NY compares favorably to a statewide uninsured rate of 5.7 percent. The national rate is 8.7 percent. 
"More people than ever before are reporting they have coverage that provides them with access to the high-quality health care available in upstate New York," said Christopher Booth, chief executive officer of Excellus BCBS. "We've never seen these percentages of the population with coverage."
The American Community Survey is the largest and the U.S. Census Bureau's recommended source for examining uninsured data at national, state and regional levels. It reports the yearly uninsured rate for geographic areas with populations of 65,000 or more. The county-level data were aggregated to calculate the upstate uninsured rate cited by the health plan.
"We believe the historically low uninsured rates for upstate are a result of lower-cost health care in this market of nonprofit health plans and nonprofit hospital systems," Booth said.
By comparison, the 2016 uninsured rate for the state was 6.1 percent, while the U.S. rate was 8.6 percent.
View an Excellus BCBS infographic illustrating the census numbers here.
# # #
Excellus BlueCross BlueShield, a nonprofit independent licensee of the BlueCross BlueShield Association, is part of a family of companies that finances and delivers vital health care services to about 1.5 million people across upstate New York. Excellus BlueCross BlueShield provides access to high-quality, affordable health coverage, including valuable health-related resources that our members use every day, such as cost-saving prescription drug discounts and wellness tracking tools. To learn more, visit ExcellusBCBS.com.
Source: Excellus BlueCross BlueShield
Share: