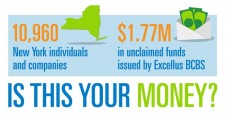 ROCHESTER, N.Y., April 25, 2019 (Newswire.com) - ​​​​It's not pocket change. Excellus BlueCross BlueShield is looking for almost 11,000 individuals and companies who haven't cashed checks totaling $1.77 million. The unclaimed checks were issued in 2015 to members and health care providers.
"This is money that was paid for claims or refunded premiums. If the money remains unclaimed it will go to the state," said Christopher C. Booth, president and chief executive officer of Excellus BCBS. "It rightfully belongs to our members or providers and we want to make sure they have one more chance to claim it before it goes to the state."
Checks may not have been cashed for several reasons. The member may have moved and not left a forwarding address, a member may have died, or the member simply forgot about the money.
Written notices were recently mailed to the individuals and providers advising them of the unclaimed funds. A complete list of names of people and companies with checks to claim is available on the company's website at ExcellusBCBS.com/UnclaimedFunds.
Printed legal notices listed by county are scheduled to appear on April 24 or April 25 in regional daily or weekly newspapers across New York state.
Every year, the state requires insurers like Excellus BCBS to make a list of unclaimed checks that are at least three years old. The names are then placed in advertisements in local papers in an attempt to find the people who have money to claim. If the property is not claimed by August, the money is then turned over to the Comptroller of the State of New York.
To claim a check prior to August 1, return the form that Excellus BCBS mailed to you as soon as possible. If you did not receive the form:
Go to our website at ExcellusBCBS.com or click HERE to search for your name and address
If you are listed on the site, then download and complete the form available on the page
If you have moved to a new address or if you are calling on behalf of the estate of a family member, and do not have internet access, please call Excellus BCBS: 1-800-499-1275
Responses must be received by August 1. Please allow up to 90 days for processing.
# # #
Excellus BlueCross BlueShield, an independent licensee of the Blue Cross Blue Shield Association, is a nonprofit health plan with 1.5 million upstate New York members. The company's mission is to help people live healthier and more secure lives through access to high-quality, affordable health care. Its products and services include cost-saving prescription drug discounts, wellness tracking tools and access to telemedicine. With more than 3,500 employees, the company is committed to attracting and retaining a diverse workforce to foster innovation and better serve its members. It also encourages employees to engage in their communities by providing paid volunteer time off as one of many benefits. To learn more, visit ExcellusBCBS.com.
Refer media inquiries only to: Kevin P. Kane, APR – kevin.kane@excellus.com or Melissa Klinko – Melissa.klinko@excellus.com
Source: Excellus BlueCross BlueShield
Share: